About School Chaplaincy
Who are School Chaplains?
School chaplains are in the prevention and rescue business. They're helping students find a better way to deal with issues ranging from family breakdown and loneliness to drug abuse, stress and anxiety. They provide a listening ear and a caring presence for kids in crisis… and those who just need a friend. All have a passion to improve the lives of young people.
"When you have a chaplain, you always know there's a soft place for kids to fall," said a school principal recently. "In fact, the chaplain supports everybody in the school community. The students have someone to go to, and the parents and staff also have someone to go to."
Chaplaincy supports young people in one of the most complex environments in our society — the school. Today, there are over 1,650 state schools with NSCA chaplains across the country. These chaplains provide a safe and supportive influence.
The National School Chaplaincy & Student Welfare Program
Announced by the Howard Federal Government in October 2006, the National School Chaplaincy Program (NSCP) provided up to $165 million over three years to all Australian school communities to assist in the provision of chaplaincy services. Individual school communities were eligible to apply for up to $20,000 per annum to establish school chaplaincy services or expand existing chaplaincy services.
The Rudd Government in 2009 extended the program to the end of 2011 with a $42.8m injection. In 2010, the Gillard Government announced an extension to the program to the end of 2014, and in September 2011 the National School Chaplaincy & Student Welfare Program (NSCSWP) was announced.
The NSCSWP will help support up to 1,000 new chaplains or secular welfare workers across Australia. The new program will also establish a minimum standard of training for all chaplains and welfare workers, a revised complaints-handling process and new benchmarks for all chaplaincy and welfare worker providers.
For more information on the National School Chaplaincy & Student Welfare Program, contact the Department of Education, Employment and Workplace Relations on 1300 363 079 or visit http://www.deewr.gov.au/Schooling/NationalSchoolChaplaincyProgram/Pages/NSCStudentWelfareOverview.aspx
What do School Chaplains do?
School chaplains are active in promoting student wellbeing, particularly through the provision of pastoral care.
School chaplains encourage reflection about the spiritual dimensions of life.
School chaplains have an educative role in the areas of beliefs, values, morals, ethics and religion.
School chaplains work as part of the school support team to facilitate connection into the school network and wider community of students who are suffering from bereavement, family breakdown or other crisis and loss situations.
The services provided by a chaplain should be appropriate to the school and student context in which he or she will operate. Within this context, chaplains will be expected to respect the range of religious views and affiliations, and cultural traditions in the school and the community, and be approachable by students of all faiths. It is not the purpose of chaplaincy services to bring about or encourage commitment to any set of beliefs.
It is important to note that school chaplains cannot provide services for which they are not qualified, for example, counselling services or psychological assessment, or medical assessment.
The key tasks of a chaplain may include facilitating access to the helping agencies in the community, both religious-based and secular, with the approval of the School Principal.
The activities undertaken by school chaplains may include, but are not limited to:
Pastoral care:
Providing guidance to students on issues concerning human relationships;
Assisting school counsellors and staff in the provision of student welfare services;
Providing support in cases of bereavement, family breakdown or other crisis and loss situations; and
Being readily available to provide continuity and on-going support for individual students and staff where this is necessary.
Spiritual guidance:
Supporting students who wish to explore their spirituality;
Providing guidance on religious, values and ethical matters; and
Facilitating access to the helping agencies in the community, both church-based and secular, with the approval of the School Principal.
Dispelling Myths & Answering Questions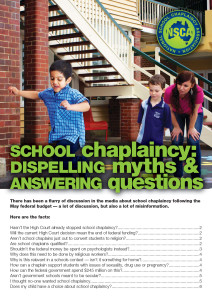 Download our PDF document to see the facts about School Chaplaincy.
Hasn't the High Court already stopped school chaplaincy?
Will the current High Court decision mean the end of federal funding?
Aren't school chaplains just out to convert students to religion?
Are school chaplains qualified?
Shouldn't the federal money be spent on psychologists instead?
Why does this need to be done by religious workers?
Why is this relevant in a schools context — isn't it something for home?
How can a chaplain support students with issues of sexuality, drug use or pregnancy?
How can the federal government spend $
million on this?
Aren't government schools meant to be secular?
I thought no-one wanted school chaplaincy
Does my child have a choice about school chaplaincy?